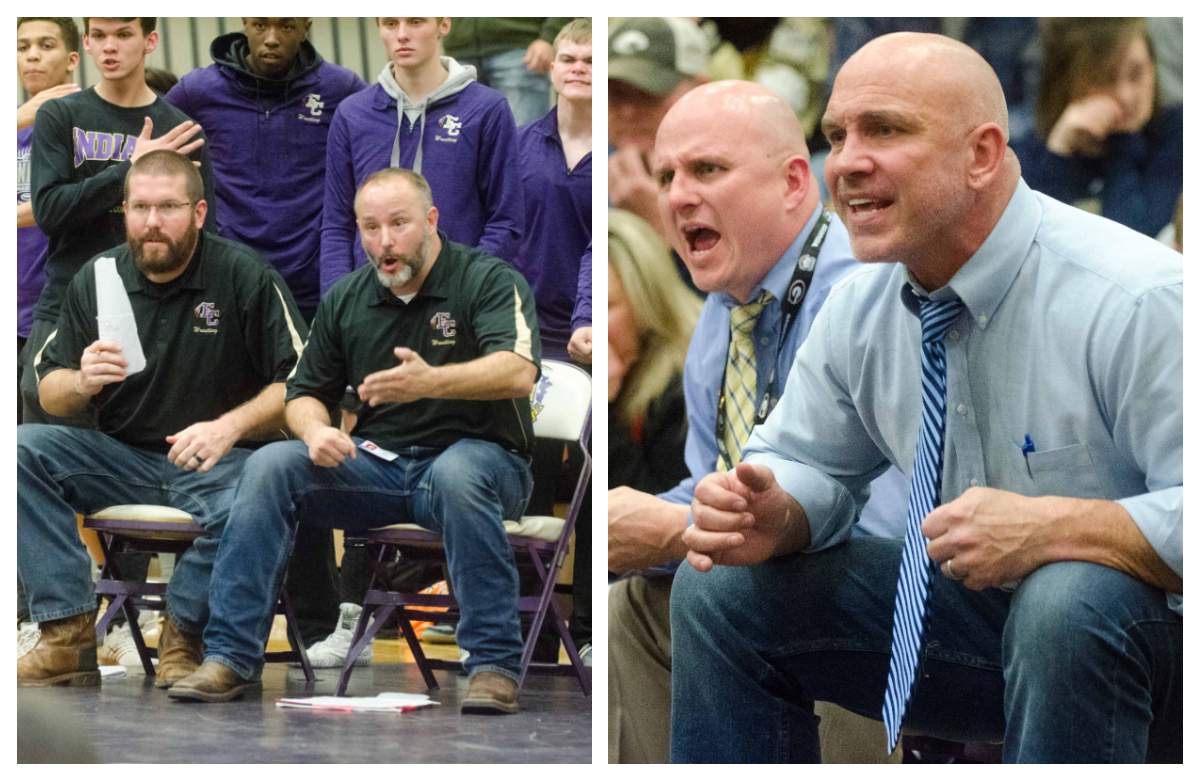 Respective coaching staffs that include Chad Kollert and Matt Ferrari at East Coweta and John Garner and Sean Hage at Newnan both took unique routes in scheduling this season based on the makeup of teams heading into the 2018-19 season. With a full lineup and added depth, the Cougars competed in 48 dual matches, going 42-6. East Coweta spent most of its schedule competing in individual tournaments to help first-year varsity starters add experience.
Source: Coweta Score 1/15/2019
by CHRIS GOLTERMANN
Wrestling isn't unlike the process of cooking. Certainly, you need the right ingredients and those are harvested in the practice room. But without the right combinations, your results will turn out sour.
Equally, both processes include a lot of marination and maturity. Jump the gun on a souffle and it goes flat. Take a shot at the wrong time on the mat, and well ... same result.
As both Newnan and East Coweta head to the GHSA State Duals for a fifth consecutive year, teams are hoping patience can pay off.
A year ago, the Cougars advanced for the first time since the duals began in 2002, surviving elimination on day two with a 58-19 victory over Cherokee. In its recent history, which has included trips to Macon in nine out of the last 10 years, the Indians achieved the same feat in both 2016-17 and 2015-16.
But what's stewing in the pot for this week is another opportunity to build on those successes.
"Last year was the first time we won a match at the duals. This year, I wanna place," Newnan head coach Sean Hage said after clinching another Area 2- 7A title on Friday while going undefeated. "I think we're finally coming to a point where I don't know that we're peaking, but peaking a lot further than we were at the beginning of the year."
With 12 of the 16 qualifiers in Class 7A returning from a year ago, the field remains challenging. It's led by defending champion Camden County, who breezed past Colquitt 58-9 in the Area 1 championship.
Runner-up Archer is a bit younger than a year ago, falling to Rockdale in the 8-7A finals 45-28. A potential window of opportunity among challengers to Camden, however, has Mountain View potentially primed for a run after winning its fifth consecutive area duals title in a slim 36-33 win over Collins Hill.
Camden and Mountain View sit on opposite sides of the 7A bracket with Newnan entering on Mountain View's half as the No. 6 overall seed. The Cougars will face 1-7A runner-up Colquitt with an opportunity to stay in the
winner's bracket immediately.
In last year's opening round, Newnan dropped a tough 37-35 decision to Collins Hill on its way to placing in the top six behind North Forsyth, Mountain View and Hillgrove.
Hage, however, saw Newnan's second matchup of the year against rival East Coweta to close out Friday's 2-7A duals as a test of their fortitude. With the Indians gunning for revenge from this year's county tri-match and at home, the Cougars won four consecutive bouts and never looked back en route to a 51-25 victory.
"It was a big test with East Coweta," Hage said. "East Coweta's a great program and you don't get over their program twice. They rolled with the punches."
Four of Newnan's victories against the Indians to close out the round-robin event included efforts where Cougars had trailed. Senior Kyler James got down 5-1 and responded for a pin at 132 pounds. Junior Austin Garmany responded from an early 6-0 deficit at 220-pounds against East Coweta standout Alex Derico and picked up a pin in the second period.
It was a tougher ending for the Indians, who also went 4-0 along with Newnan in lopsided efforts against the rest of 2-7A. Even a shift in the lineup that had Derico moving to 220 and Titus Aun stepping into the heavyweight position in hopes of spreading out East Coweta's deeper weights wasn't enough.
Jaxon Garner sparked the Indians with a pin at 145 with less than a minute left in his match. By then, however, East Coweta was trying to navigate its way back from a 25-0 deficit.
Each 2-7A representative took unique and strategic paths with scheduling. Newnan, fielding a full lineup, loaded its 2018-19 dates with dual events,
finishing 42-6 after outscoring 2-7A schools 376-28.
Numbers have continuously spiked for the Cougars in the four-plus years under Hage and coach John Garner, who wrestled for Class A Mt. Zion- Carroll in high school.
"At Mt. Zion we always had to forfeit. I hated it," Garner said. "I wanted to have a full team since I started coaching."
Newnan opens against a Colquitt team led by 220-pound state runner-up Nic Jarvis, who had six of the Packers' nine points against Camden in the 1- 7A finals with a pin. Colquitt clinched its trip to state with a 40-25 victory over Lowndes.
The winner between Newnan and Colquitt advances to face either 7-7A champion Brookwood or 8-7A runner-up Archer.
At last year's state duals, Archer was in the same position as the No. 2 seed from 8-7A but reeled off consecutive wins over Lassiter, North Paulding and North Forsyth to reach the 7A finals.
East Coweta, which has more first-year varsity starters than a year ago, opens the 7A state duals against 5-7A champion West Forsyth. Both schools went 0-2 at last year's event as No. 2 seeds from respective areas.
The Indians put an emphasis on individual tournaments while entering the year without entries in two weight classes including heavyweight.
East Coweta was without 120-pound county champion Jake Gabriel at the area duals with an injury, though he is expected to be back to compete for the area traditional tournament on Jan 31., at Newnan.
"Right now it's about how we can take this program to the next level," Indians coach Matt Ferrari said. "We have a lot of young, first-time [varsity] wrestlers. We did our due diligence to get them prepped in individual
tournaments. That's all we did."
NORTHGATE PLACES THIRD IN AREA 5-6A
Pitted against traditionally strong programs in Alexander and South Paulding, a Northgate team without a full lineup finished a solid third overall at Saturday's Area 5-6A Duals held in Douglasville at Alexander High.
Alexander defeated Northgate in the semifinals while South Paulding advanced with a victory over New Manchester.
The Vikings defeated New Manchester to place third. Full results were unavailable.