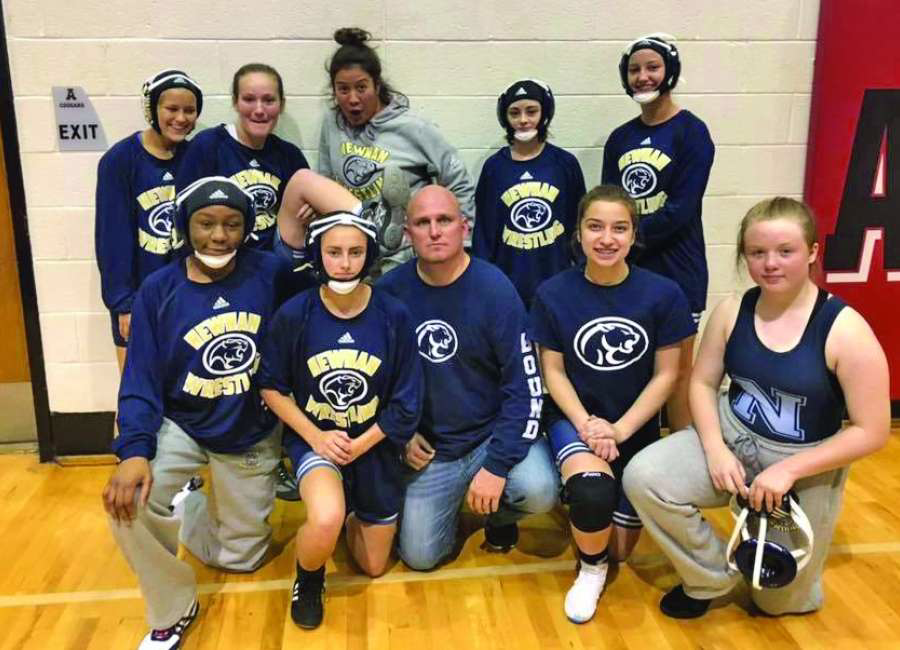 Source: The Newnan Times-Herald
by DOUG GORMAN dgorman@newnan.com
History is being made on the high school wrestling mats in Georgia as the Georgia High School Association will have a separate division for girls at the state tournament for the first time ever.
Girls competing on the wrestling mat has been allowed for sometime in Georgia, but female wrestlers always had to wrestle against boys, something they can still do.
However, with a girls division now a part of the GHSA sports menu, the hope is more young women will decide to participate in the future.
Once they get into the state meet, they will have to choose a boys or girls bracket while unable to compete in both.
Newnan wrestling coach Sean Hage fully supports the growth of girls wrestling.
Several female wrestlers are a part of history at Newnan including Ila Clare Whitlock, Quoteshia Benson, Hannah Currence, Rebecca Eddy, Emelyn Carden, Taylor Price, Maddie Steiner and Sydney McElroy.
Hage used a combination of recruiting and word of mouth to form the first girls wrestling team.
"I knew we weren't going to get a ton of girls to come out that first year because some don't want to be that first person who tries it, but it says a lot for the girls who have come out and stuck with it" he said.
=All of the Lady Cougar wrestlers bring different personalities and reasons for joining the team.
Price, a senior on the team, is one of the best ambassadors for the sport, talking it up with her fellow classmates and convincing other girls to join her as part of the first full girls team at Newnan.
Price was on the wrestling team when her only chance to compete was against guys.
"I used to watch WWE and I wanted to do something different," she said. I didn't think there were girls on the team so I thought I might as well try it. I have fallen in love with it and have tried to get other girls to come out."
Price admits there's a transition when it comes to switching from the two forms of competition.
"Wrestling against the guys is definitely different," she said, "Guy are a lot
stronger, but girls are just as aggressive."
One of the first thing girl wrestlers find out when they attend their first practices at Newnan is the training is going to be intense and no different that what the guys go through.
"There are no excuses," Price said. "We practice with each other and do the same drills."
Steiner comes from a wrestling background and was inspired to join the team by her brother who wrestled in Missouri.
As a freshman, she will help with the growth of the girls' wrestling program over the next few years.
"It's been a really big challenge," she said. "Practicing and wrestling against the guys can be really tough, but it makes us better."
The one thing Steiner learned from talking to her brother about wrestling is it's not all about physical strength.
"It's really tough to do this and it takes a lot more mental strength to do this than people think," Steiner said.
Steiner's brother did give her some solid advice. "He told me not to let anybody throw you," she said.
Carden, a sophomore, was a wrestling manager, but also knew she wanted to compete.
She caught the wrestling bug from talking to her teacher and assistant coach John Garner.
"He really encouraged us," Carden said. I knew I was going to be a manager, but a friend convinced me to give competing a try. I always knew if it didn't
work out, I could go back to being a manager."
Carden says wrestling is a perfect fit for her personality.
"I have always been into working out," she said, I didn't want to be on the sidelines when everybody else was putting in the work."
Curiosity has also played a role in the growth of girls wrestling.
"Some of it is friends of friend," Hage said. "They want to know what it is about."
Hage sees the potential grown in the girls sport.
The veteran wrestling coach has never cut a boy or girl wrestler and he thinks that also might convince females to give it a try in the future.
"I hope next year when girls see it is not as brutal as they might think, more will try and come out." he said.
There might be a misplaced stigma from outsiders when it comes to girls competing on the wrestling mats, but Hage said his girls ignore it.
"It comes back to personalities," Hage said. The personalities on this team, they don't care."
Price is glad the GHSA has added a girls state tournament.
"I think it is going to bring a lot of attention to the sport of girls wrestling," Price said.